SEC Chairman Jay Clayton said "We believe that the June 30, 2020 compliance date for Reg BI and other requirements, including the requirement to file and begin delivering Form CRS, remains appropriate."
The Reg BI Distractions
The COVID-19 pandemic and global financial crisis have distracted the industry. We never imagined we'd be financially paralyzed by a global shutdown. Despite our government's best efforts to remedy the crisis, the markets have been in a constant state of flux.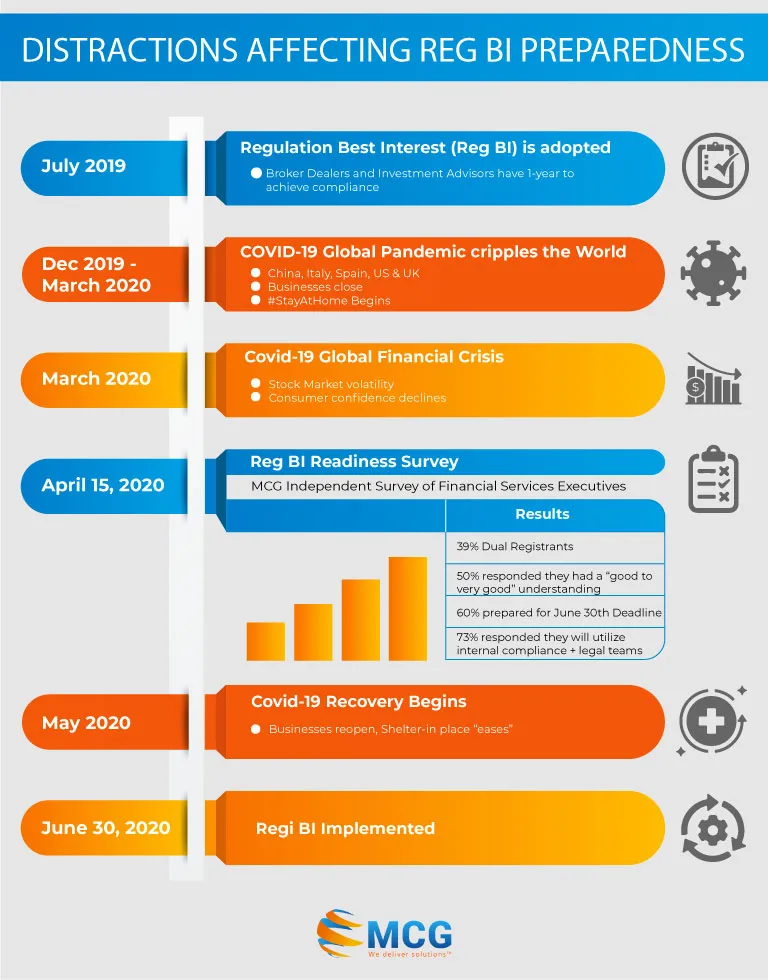 Covid-19 and Reg BI—What is the connection? The core tenet of Reg BI is to protect the retail investor. With the recent market volatility, how protected do you think the investor feels right now?
FINRA has begun assessing industry preparedness by conducting Reg BI examinations. According to William St. Louis, SRO's Northeast Region director for sales practice, "We want to see where firms stand in advance of the June 30, 2020 compliance date".
We conducted a survey amongst a small sampling of investment professionals to get a pulse check of readiness. Although the survey results state 50% of Broker-Dealers and Investment Advisors are prepared; we do not feel a true "sense of urgency" surrounding Reg BI.
Ask yourself these three questions:
Have the events of the pandemic distracted you from staying on top of your regulatory obligations?
Has your firm started any Reg BI compliance updates?
Do you have resources available to meet the June 30th deadline?
If you answered "No" to questions 2 & 3, then the time to act is NOW.
The Time to Act is Now
We are 60 days away from the June 30 deadline. We estimate it will take 8-12 weeks to complete the revisions to the compliance procedures and Form CRS.
Additionally, if your firm acts as a dual registrant, it may necessitate multiple filings of Form CRS. The complexity of potential conflicts of interest for Dual Registrants may increase the estimated timeline beyond 12 weeks.
Clayton explained, "Firms should continue to make good faith efforts around operational matters to ensure compliance by June 30, 2020, including devoting resources as necessary and available in light of the circumstances. … SEC examiners will be focusing on whether firms have made a good faith effort to implement policies and procedures necessary to comply with Reg BI."
Not being in compliance with Reg BI will become even more relevant in a volatile securities market. If not compliant, the Covid-19 pandemic will not be your only distraction—but also potentially a "legal pandemic" heading your way by the SEC and FINRA. Don't wait too long to act.
Contact MCG Consulting today to get your firm Reg BI prepared.
CONTACT
Paul Murdock [email protected]
Gus Macedo [email protected]